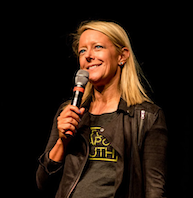 I got introduced to Ellen Melko Moore when someone suggested I take her free LinkedIn Profile Audit. I was skeptical (naturally) but decided to give it a go. I was impressed and immediately invited Ellen to Sales for Nerds. (If you're reading this, you should book a free audit session, too!)
Ellen was on the path to become an English professor, but after a bachelor's degree, a master's degree, and a lot of work towards her PhD, she realized she was on the wrong path. She loved writing and teaching, but not the politics.
In this episode, learn how Ellen:
Figured out how to get paid to to talk about great books (and why I still have a great book sitting unread on my bookshelf).
How her "supertight" branding for this venture landing her a consulting gig with Oprah.
How she ended up on TV, and what that taught her about communication, especially coming from academia.
How this led her to help other people create "Supertight" brands, and why she focuses on LinkedIn.
Learn about the "Bitchslap of Truth"– no I'm not making that up
Here's some of what Ellen covers in this episode about building a great brand:
The first rule of branding (via Dan Kennedy), and why Ellen thinks "Sales for Nerds" is a "Supertight" brand. (What do you think?)
Why you shouldn't worry about your brand ruling people out– you should focus on making it strong enough to rule people in. (Note that even toilet paper marketers target certain niches– so unless your offering has broader appeal than toilet paper, you need to niche, too.)
It's often hard to target your brand effectively, because you're close to it, you don't want to miss out, and emotions are involved. Get help, from a professional, from a friend, from a peer, etc. (Ellen quotes the stat that 10,000 people per day are moving into consulting or coaching– we don't know if this is true– and most of them won't make a lot of money. If you're one of those people, make sure your brand stands out.)
If you want to have a successful brand, focus it on a subsegment of the market that you can help that has ATP (Ability-to-Pay) and ETP (Eagerness-to-Pay). You can often find people with one or other (or neither), but you need both.
People tend to buy from the first expert who educates them– why not have your LinkedIn profile do some of the work?
Plus, my bonus tips on expanding or narrowing your niche: expand if sales are too easy, contract if sales are too hard.
Learn some simple, powerful LinkedIn tips:
How to optimize your profile– and why it's probably hurting Ellen's eyeballs and heart. Make it more about your ideal clients and less about you. It's about "teaching, not marketing." Make sure you use the About section to give a "state of the union" for your ideal client.

Take the time to follow Ellen's advice here— she's already helped me improve me profile a bunch, with more to do, but if you check out my LinkedIn profile, you can see I've put into action some of her advice.

How to send and process connection requests (you wouldn't walk up to someone in real life and say "you're amazing– you want to buy my stuff!" but people do this on LinkedIn all the time), plus how to get Ellen to automatically accept your request.
How to use content effectively, including tips for video (and why most content falls flat)
---
The Wine
It was too early for Ellen, but Reuben had a glass of Furthermore Pinot Noir from Sonoma.
---
Where to find Ellen Melko Moore

Where you can find Reuben: @Sales4Nerds, @Mimiran, Mimiran.com, the easy CRM for people who are awesome at serving clients and would love some help getting more, but hate "selling", (Mimiran also makes it easy to track and grow referrals). You can also listen on Overcast, or Subscribe on Android, or Player.fm.
Want a way to make sales and marketing fun, without being "salesy"? Try Mimiran, the CRM for elite solo consultants who love serving clients but who hate "selling".
---
Get alerted when there are new episodes (1x/month):