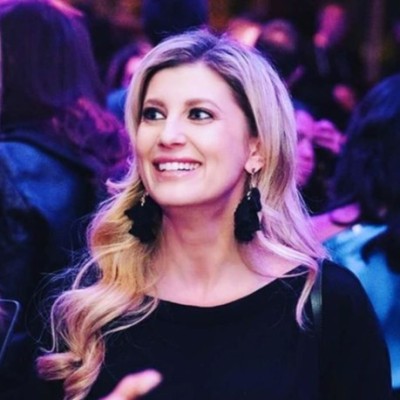 Inc. Magazine called Angelique Rewers "the undisputed champion at helping small businesses land big clients", and in this episode, Angelique pulls back the curtain on how she started her consulting business (accidentally, of course), and how she pivoted into helping other consultants.
In this episode, learn how Angelique:

How Angelique launched her own consulting business after 10 years working for someone else.
How she got her first clients, and how it wasn't where she expected.
How her business struggled, and how a friend helped her get it on the right track over margaritas (another reason Angelique is a great fit for the show).
Why (and how) you have to call everyone you know, instead of wasting time on busywork. (Amen!)
Why buyers ghost you (and what you can do about it).
A reminder that you can "date" ideas– you don't have to marry them, especially when you are getting started.
How to "bridge" from one conversation or speaking engagement to deeper connection with buyers.
How to block out time in your calendar for outreach and "drag, don't delete", when needed.
Here are some common mistakes people make trying to sell to big companies (I wouldn't know anything about that):
Content is a commodity. Conversations and cash flow are kings. Don't spend too much time creating stuff that no one's reading or that doesn't move the needle on sales. When you do content, push it through industry outlets so that your ideal clients will see it.
Make sure you have a "red velvet rope" to keep out the wrong prospects (like "a-holes")
Trying to sell to pain points instead of the buyer's to-do list. (Hear how one of Angelique's clients did this with her.)
Making the buyer want to "dodge" you– this means you're being too sales-y, whether that's your intent or not.
Trying to make things more urgent than the buyer thinks– they already have too much urgent stuff. Just help them instead of trying to sell them (and hopefully you hear the magic words, "I've never thought of it that way before").
Apologizing for doing your job and asking questions. Don't worry about looking stupid.
Not leading the buyer through the process.
Forgetting that buyers are human, too. They have stresses, feelings, and whatever changes we see in markets and technology, we're still dealing with people.
Trying to win deals with proposals (we have a big conversation about what this means, and how you should do it) and guessing what the client needs.
Don't be boring– have fun with how you (re)connect with people.
Don't think that everyone is against you– a lot of people are rooting for you.
Do be helpful, be human, and make it easy to buy, and do take the mental heavy lifting off your prospects' shoulders.
And– we've actually got video for this episode. See below…
---
The Wine
Reuben had some Wind Gap Pinot Noir, while Angelique had the red blend from @GaryVee's Empathy Wines.
Books and More
Selling the Invisible, A Field Guide to Modern Marketing by Harry Beckwith, which has the great notion that Angelique mentions– "if you listen closely enough, your customers will describe your business to you."
Kolbe Testing— what Angelique mentions a couple of times, designed to help you figure out how your brain works best.
---
Where to find Angelique

Where you can find Reuben: @Sales4Nerds, @Mimiran, Mimiran.com, the easy CRM for people who are awesome at serving clients and would love some help getting more, but hate "selling", (Mimiran also makes it easy to track and grow referrals). You can also listen on Overcast, or Subscribe on Android, or Player.fm.
Want a way to make sales and marketing fun, without being "salesy"? Try Mimiran, the CRM for elite solo consultants who love serving clients but who hate "selling".
---
Get alerted when there are new episodes (1x/month):