Congratulations to our winners– they have a lot of reading to do. (If you're friends with them, see if you can borrow some of the books they're not reading.) Here they are about to go into boxes…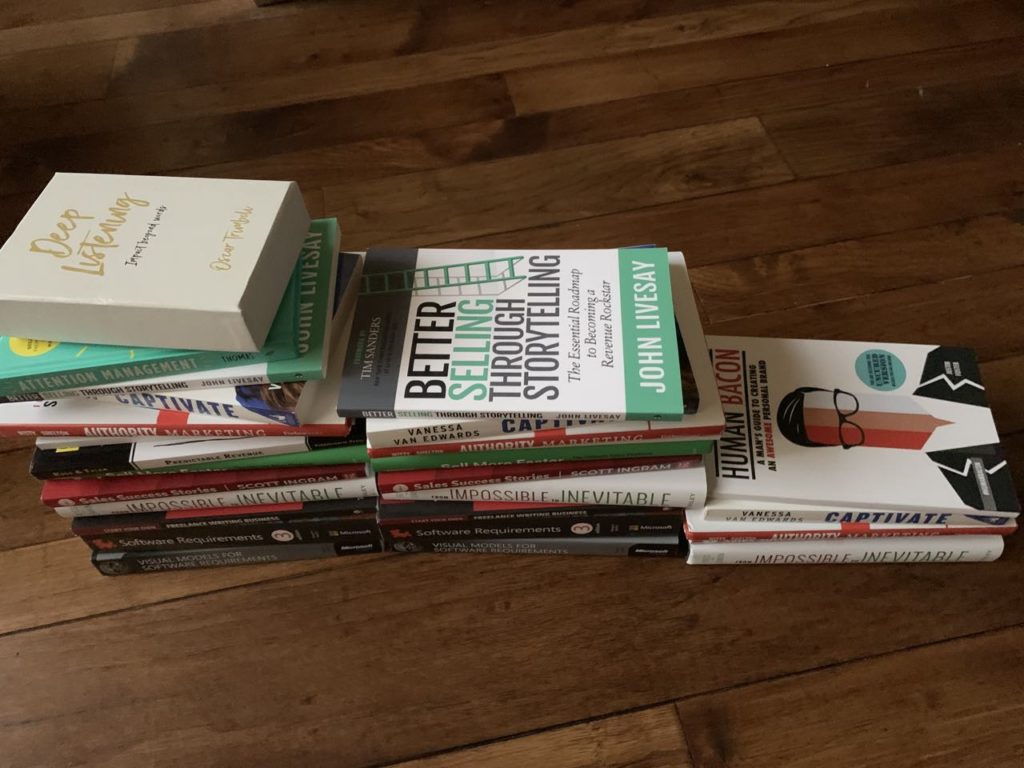 Our first place winner is Josh Robbs.
Josh is a website consultant who helps small businesses develop and operate websites focused on meeting real business goals. He said he's excited about all the books but is especially looking forward to digging into Oatmeal v Bacon and Authority Marketing.
Our second place winner is Marisa Eckberg, who runs Grey Owl HR.
This is so exciting!  Thank you, I've never really won anything like this before – maybe I should go get a lottery ticket! From the books and your Sales for Nerds course, I hope to gain some tips and trick as well as develop some better sales skills so I can ultimately help more small business owners with their HR needs.
You can find Grey Owl on Facebook and on LinkedIn.
Our third place winner is Albert Swantner, who's the CTO of MobileTech Rx, based here in Austin. Mobile Tech RX is a venture-backed software company that helps auto reconditioning professionals make more money and save time.
I'm CTO and co-founder of a startup called MobileTech Rx based in Austin and a big part of what we are working on is our sales and marketing process.  As an engineer I have a lot to learn in this area and so I'm really excited for this set of books to help me set up a process and grow our company.

I'm looking forward to reading those books!
You can also find Albert on LinkedIn.
Thanks to all those who entered and especially thank you to the amazing authors who contributed books.
From Impossible to Inevitable: How Hyper-Growth Companies Create Predictable Revenue ($18), by Aaron Ross and Jason Lemkin
Sales Success Stories: 60 Stories from 20 Top 1% Sales Professionals ($16), by Scott Ingram
Attention Management: How to Create Success and Gain Productivity — Every Day ($17), the new book from Maura Thomas
Captivate: The Science of Succeeding with People ($17), by Vanessa Van Edwards
Oatmeal v Bacon: How to Differentiate in a Generic World ($15), by Justin Foster
Better Selling through Storytelling: The Essential Roadmap ($17) to Becoming a Revenue Rock Star, by John Livesay
Visual Models for Software Requirements ($64) and Software Requirements ($30), by Joy Beatty (if you're wondering if this relates to you if you're not in software, listen to Joy's interview where she discusses reverse engineering requirements for the sales and marketing process).
Authority Marketing: How to Leverage 7 Pillars of Thought Leadership to Make Competition Irrelevant ($12) by Adam Witty and Rusty Shelton
Start Your Own Freelance Writing Business: The Complete Guide to Starting and Scaling from Scratch, by Laura Briggs ($14). This is essential if you're starting a freelance writing business, but it has great tips for set up, sales, marketing, client management and more for any service business.
Deep Listening: Impact Beyond words – Paperback book & Playing cards, ($45) by Oscar Trimboli.
Asia Matos new e-book (so it won't be signed): How to Build a Resilient as F*ck Mindset.
Sell More Faster: The Ultimate Sales Playbook for Startups, by Amos Schwarzfarb
Plus, all winners get free enrollment in the Sales for Nerds online course on Sales Proposals the Right Way, which will change the way you think about proposals, sales, and client projects. ($297)