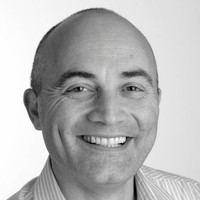 This is a bit of a different episode, but bear with me. Oscar Trimboli is not a "sales" expert, or a "marketing" expert, or any of the usual experts you'll find on this podcast. He's a "deep listening" expert. What does that even mean? And what does it mean for you?
First, consider the time and effort you've put into communication. Speaking, writing, presenting. Maybe not as much time and effort as we'd like, but consider how much time and energy have you invested in learning to listen?
Listening is more important that talking, but most of us have no formal training in how to listen. The good news is that you can listen to this episode (no pun intended) and get some great training that will help you be more effective at work and at life.
In this episode, learn:
How Oscar learned to be good at cards despite being bad at math.
How he decided to focus his career on deep listening.
Why deep listening is essential for good sales and marketing
How to shorten the sales cycle
The 4 listening villains (The Dramatizer, The Interrupter, The Lost Listener, and The Shrewd Listener)
The simple reason we have to listen deeply– the rates of speaking (125 words per minute), listening (400 words per minute) and thinking (up to 900 words per minute) are different– so there's always something unsaid going through the speaker's mind. You might only be getting 11% of the picture.
Listen for code words that show that speaker is getting to thoughts originally unspoken, like "I've just realized…" or "what I forgot to mention is…"
Deep listening is actually about helping the speaker get their real thoughts out.
Why you don't want to start with "why?" questions, start with "how?" and "what?" (reminiscent of advice Craig Elias gave in Episode 36).
Listen to the silence– give your conversation partner time to think
The 5 Layers of meaning:

Listening to yourself
Listening to content (this is where most listening advice starts, forgetting how important it is to get yourself in the right place)
Listening for context
Listening for what's unsaid
Listening for meaning

Simple advice for becoming a better listener: turn off your screens (including mental browser tabs), and take 3 deep breaths so you can slow down and focus on listening.
If you like this episode, check out the Deep Listening podcast and the Deep Listening book (and the box set that includes the cards)
The Wine
I'm enjoying some Qupé Syrah from Santa Barbara County. Oscar is the designated driver, both for his wine-loving relatives and on this podcast.
I enjoyed some Loveblock (that does not sound right, does it?) Sauvignon Blank from New Zealand (taste much better than the name). 😉

Where to find Oscar…

Where you can find Reuben: @Sales4Nerds, @Mimiran, Mimiran.com (the easy CRM for people who are awesome at serving clients and would love some help getting more, but hate "selling"). You can also listen on Overcast, or Subscribe on Android, or Player.fm.
If you've ever struggled with a proposal, check out the "official" Sales for Nerds online course on Sales Proposals the Right Way (coupon link for listeners).
---
Get alerted when there are new episodes (1x/month):