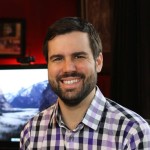 Brennan Dunn, who you may know from Double Your Freelancing [price] fame is an internet marketing whiz, but he didn't start out that way. He was pursuing an electrical engineering degree when he decided to switch gears (and schools) and study Ancient Greek and Latin.
Then he started doing internet marketing, almost accidentally, learning the in's and out's of lead generation and conversion on behalf of clients.
He did freelance development, then started, grew, and sold an agency based on what he'd learned as a freelancer.
Then, based on what he'd learned running an agency, he launched a software app (Planscope). To help Planscope customers be more successful, Brennan launched the Double Your Freelancing online course (the course I wish I had started, as we discuss in the interview), which boasts over 10,000 members.
Building on that experience, and how he tried to hack his site to be a more effective marketing tool, Brennan launched RightMessage, to customize website messaging based on visitor profiles.
It's a long and interesting journey, but one that builds on itself.
In this episode, Brennan discusses:
2 key strategies he uses for making sales without selling. Both are great.
How to understand what your customers are buying, which is often very different than what you think you're selling.
The complete (series of) accident(s) that led to Double Your Freelancing, which he grew into a 7-figure business.
The system he uses to understand a market, develop an offering, and then sell that offering in a low-touch, scalable way
The importance of a good message and strong positioning, which helps you sell in a low/no-touch channel, and how that led to Brennan's latest offering, RightMessage.
How his classical education provided a foundation for successful sales without selling.
Today's wine:
Leyda Pinot Noir 2014 (I describe it as a nice Pinot Noir with a bit of a "Chilean bite"– this must be the "red acid fruit" described below.

Tasting Notes: An expressive and fruit driven, cold climate style of Pinot Noir, showcasing red acid fruit together with spiciness and floral notes. Its strong expression makes it an ideal example of the maritime valley. In the mouth it is fruity, juicy and fresh, with good acidity. The tannins are soft, sweet and well rounded.
Where to find Brennan: @BrennanDunn, RightMessage.io, DoubleYourFreelancing.com (he's on LinkedIn, but not really)
Where you can find Reuben: @Sales4Nerds, @Mimiran, Mimiran.com, LinkedIn.

Get the episode now on iTunes, listen on Overcast, or Subscribe on Android, Player.fm.