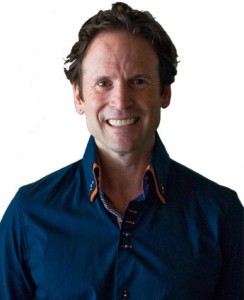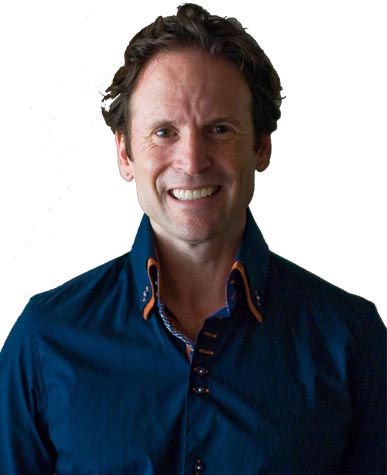 Few authors have had the impact on sales that Aaron Ross has had over the past few years. His first book, Predictable Revenue, called "the sales bible of silicon valley", he co-authored along with Marylou Tyler, who was on Sales for Nerds in Episode 14.
Now he's back with From Impossible to Inevitable: How hyper growth companies create Predictable Revenue. This time, Jason Lemkin, former CEO of EchoSign, leader of SaaStr, and more, is his coauthor.
This book breaks done how companies can grow quickly and sustainably, with 7 steps: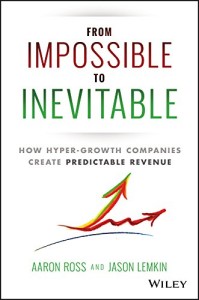 You're not ready to grow until you Nail a Niche.
Overnight success is a fairy tale. You're not going to be magically discovered. You need sustainable systems that Create Predictable Pipeline.
Growth exposes your weaknesses and it will cause more problems than it solves—until you Make Sales Scalable.
It's hard to build a big business out of small deals. Figure out how to Double Your Dealsize.
It'll take years longer than you want, but don't quit too soon. Make sure you can Do the Time.
Your people are renting, not owning their jobs. Develop a culture of initiative, not adequacy by Embracing Employee Ownership.
Employees, you are too accepting of "reality" and too eager to quit. You can Define Your Destiny to make a difference, for yourself and your company, no matter what you do or where you work.
Aaron does all this while he and his wife raise 12 kids (!!!) (mostly adopted, for those wondering how that's even possible for such a young-looking guy).
You might think that Aaron's some sort of superman, or at least a cyborg, but what's great about his books is that he admits that this is hard. There's no "X easy steps to winning." In fact, the books include painful episodes in Aaron's life, and the admission that things will be hard and tiring.
His whole career in sales started because he didn't really know how to sell. He never thought about sales, and certainly never thought he'd end up the author of best-selling sales manuals.
But when his first company failed because he didn't have the sales chops he wanted to have, he joined Salesforce.com. He was employee number 150, which gave him a bit of stock, but not enough to get rich, and he was "on step up from the interns." He helped build the outbound engine that developed leads before handing them off to account managers. This helped salesforce grow rapidly and efficiently.
However, it wasn't until he left salesforce and was consulting with another company that he realized how critical it is to specialize your prospecting (early funnel) and your account management (late funnel).
Even if you don't have a huge sales team, even if you're just one person doing everything, you still need a way to focus on your time and energies on these different activities. As they write in the book:
Specializing your roles is the #1 most important thing for creating predictable, scalable sales growth.
Even if it's just marking different times in your calendar for different activities.
What else did Aaron learn?
First, the importance of "Nailing your Niche".
This comes up again and again, but "you're not ready to grow until you nail a niche." This doesn't mean you can only work in your niche, but you need to have one and nail it. It makes everything easier.
While consumers tend to buy what they want, business tend to buy what they need. If you're talking to people and they say, "that's cool", but they don't buy, that means it's a nice-to-have.
Once you've got your niche nailed, you can use your:
Seeds (word-of-mouth)
Nets (marketing– including testimonials, which are a form of word-of-mouth)
Spears (outbound targeted marketing and business development)
Aaron also offers some tips on how to handle the overwhelming number of possible sales and marketing activities, with what he calls "cake vs icing."
The cake is the core thing that helps your grow your business. For Aaron, it's writing books. For Jason, it's being active answering questions on Quora. (If you're in the software world, you should follow him.) Do that one thing well, and then you can use that in other ways (the "icing"). Don't try to do everything, or you'll never get anywhere. Aaron blocked out Wednesdays for a year to write the the book. For Aaron, social media isn't very interesting, so he hires someone to help him with that part of marketing.
As a pricing guy, I also appreciated Aaron's view that you should spend as work trying to double your average deal size as you do finding and closing twice as many deals. As Marc Andressen says, "raise prices".
Aaron also provides some tips on how he manages the family schedule ("one day at a time"). If you'v got less than 12 kids, no complaining. 😉
The wine…
Aaron couldn't partake, because he was in the middle of the morning California time, plus, while he really wanted a glass of wine, he knew it would put him to sleep which is not good when you have a short workday and a huge household logistical puzzle to solve each day.
However, I enjoyed a glass of 2013 Franciscan Cabernet Sauvignon from Napa Valley. A nice, up the middle of the road cab. (It's pretty expensive on the Franciscan.com site, but you can get it for $15-18.)
Where to find Aaron:
Where you can find Reuben: @Sales4Nerds, @Mimiran, Mimiran.com.
Get the episode on iTunes.  (check out the new Apple Podcasts– nice!)

You can also  listen on Overcast, or Subscribe on Android, Player.fm.
---
Get alerted when there are new episodes (1x/month):