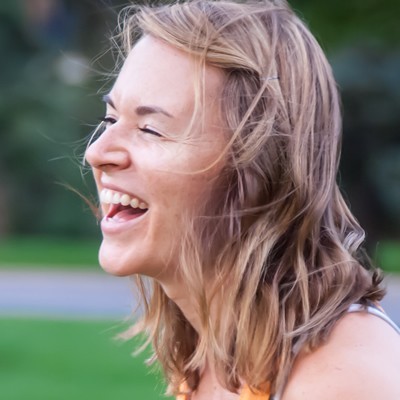 As business owners, we spend a lot of time trying to make our minds more productive, often without considering that our minds are connected to our bodies. But if we don't take care of our bodies, we miss out on joy and productivity, and we load up on stress. Ashley DePaulis, who helps large organizations prevent burnout and turnover, is here to give you tips that will make not just your business, but your life better.
Ashley was a recreational athlete, but didn't envision making athletics and movement a core part of her life (although she did put a friend through bootcamp in 3rd grade– make sure you catch that part of the story). While she was getting her master's degree in public health, she started working as a fitness instructor on the side, just for fun.
While working in public health policy, she kept picking up fitness clients and health coaching clients. Like many people, she accidentally started her business…
Meanwhile, when she 19, Ashley was in a severe car crash and had a case of PTSD, which returned when she got into another car crash and her PTSD came back. She did EMDR (Eye-movement Desensitization & Reprocessing) therapy, and got turned on to the capabilities at the junction of mind, body, and spirit.
"Movement is my jam."
We have become sedentary creatures, at least many of us who work in front of computers most of the time. And this leads to chronic pain, reduced productivity, reduced joy, and a host of other problems in modern life.
To avoid this, we have to realize that our minds aren't abstract things, they are part of our bodies. And we have to be aware of the body.
How do you know if you're having problems?
Are you in pain? This is our body's way of telling us that we need to change something.
Are you having trouble sleeping?
Are you anxious?
How can you do that? Ashley shares some great tips, including:
Get outside, or at least look outside, or even just look up. (Every 45 minutes of screen time should lead to 5-10 minutes of these kind of breaks for our eyes, minds, and posture.)
Note that these days people often take "breaks" by taking out their phones, which just increases the screen time and posture issues, and also tends to rev us up more, instead of reducing stress.
Breathe deeply, all the way to your belly.
Be aware of how your body is feeling. Notice what you're noticing. Set an alarm on your phone to do this 1-3 times per day.
Drink water before coffee in the morning (I'm working on this).
Power down before bed time– a bed time routine is even more important than a morning routine.
Ashley argues that the body is not a machine (I disagreed) and it doesn't need to be fixed. The body is always working for your survival. Pain is a signal– your body is wise and is telling you something. Pointing out that you need to take action. Pain is last signal– if you can pick up on earlier signals, you can avoid things getting bad.
So take good care of yourself– be a kinder, gentler boss to your body, and literally feel better every day.
---
The Wine

Reuben is enjoying some Bergevin Lane Moonspell Cabernet Sauvignon from Washington State.
---
Where to find Ashley

Where to find Reuben
@Sales4Nerds, @Mimiran, Mimiran.com.You can also listen on Overcast, or Subscribe on Android, or Player.fm.
Note, speaking of stories, a good proposal is a story, not a brochure– get your "Fill in the Blank" Consulting Proposal Template.

Want a way to make sales and marketing fun, without being "salesy"? Try Mimiran, the CRM for elite solo consultants who love serving clients but who hate "selling". (Including the more powerful than ever Free Edition.) Mimiran can help you implement a lot of Shaily's ideas not only more efficiently, but more effectively, including telling your Origin Story, coming up with your Superhero Name so you're unforgettable and more referrable, and much more.
Note this GQ article on training for boxing matches, especially where he discusses reducing his training load as the fight approaches: https://www.gq-magazine.co.uk/sport/article/conor-benn-boxing-workout
---
Get alerted when there are new episodes (1x/month):