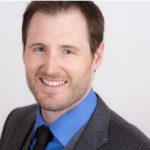 Steve Benson is the CEO of Badger Mapping, an app that literally helps sales reps solve the Traveling Salesman Problem, one of the canonical hard problems in computer science, and also very important in the real world. While Steve works in mapping and has a degree in geography, he's got a background in field sales, becoming Google's top enterprise sales rep in 2009.
Yet he didn't have a grand plan to combine his love of geography with practical real-world careers.
He started his post-MBA career in sales at IBM, but was only passionate about the software, not the hardware and services. Joining Google and being close to the Google Maps team, he had a lot of geographical thoughts swirling in his head.
How to run a successful sales meeting:
Get in the right headspace before the meeting. Focus on value. Describe the product like you're describing a vacation. There's a different sound in your voice than if you're describing a product that we're not really excited about.
Have a pre-call before the meeting. Make sure you know the #1 thing your contact wants to get out of the meeting. Set an agenda.
Don't just drone on about features– talk to the pain and the needs.
You're not trying to do training– you can do that after the sale.
Wrap up, make sure you've covered what the prospect needs, and agree on the next steps. Set aside time to do this.
Flip the script and put your "dinosaur feature" at the beginning.
How to handle price objections (and other objections, including disagreement among your champion's colleagues) proactively. (Also see Terry Hansen's episode on objection prevention and handling.)


The Wine
Steve enjoyed some 2015 Smoking Loon cabernet sauvignon.
I had some 2014 Wind Gap Ni-Pente Pinot Noir.
Where to find Steve…

Where you can find Reuben: @Sales4Nerds, @Mimiran, Mimiran.com (the easy CRM for people who are awesome at serving clients and would love some help getting more, but hate "selling"). You can also listen on Overcast, or Subscribe on Android, or Player.fm.
If you've ever struggled with a proposal, check out the "official" Sales for Nerds online course on Sales Proposals the Right Way (coupon link for listeners).
---
Get alerted when there are new episodes (1x/month):