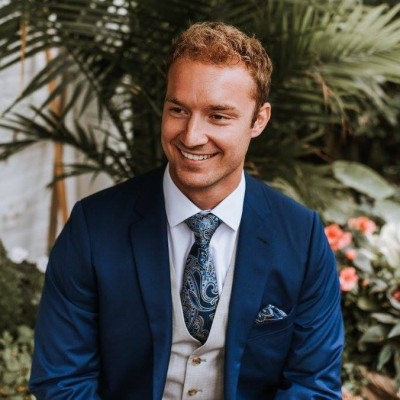 Steve actually started his career in sales– as a real estate agent. One of his mentors told him he was working too hard and being too transactional instead of focusing on the relationship, limiting his referrals. But as an introvert, Steve felt awkward calling people up to cultivate referrals.
To get around this, Steve started sending gifts to people to give him a reason to call someone. This led to organic conversations about real estate, without the ickiness. (It was also much more fun.)
Using this gifting strategy, Steve got his business to 73% referrals, and made good money while taking a month off. He didn't have to chase cold leads, and he won business in about half the time it took the average agent. Other realtors asked him how he did it, but complained they did have time to give thoughtful gifts. Steve had the insight that he could provide gifts as a service for other people.
Steve's first gifts were "cheap"– like little bottles of vodka around the holidays. Not always appropriate, and even if it was, it was gone quickly.
Over time, he developed a more intentional gifting strategy, that you can implement by following his 6 Rules of Gifting:
Focus on the client, not you. This is a gift, not a promotion.
The gift must be high quality.
You must personalize the gift.
It must provide deep emotional impact (painting of client's dog?)
It must have staying power and not be a one-time use item.
It must increase your connection (come with a handwritten note, video, etc)
Here examples of bad gifts:
Thank you email. This is just a transactional item.
Consumables like food and wine, flowers, or events, which are one-time events. (This means don't give a bottle of wine, or don't just give a bottle of wine– give a personalized corkscrew or some fancy wine glasses.)
Swag bags
Promotional items
Gift cards (lazy)
Here are some other tips:
"Attack the kitchen." Things like ice cream scoopers, pizza cutters, etc get used repeatedly.
Take time to get to know your best clients and partners. Trying to figure out a great gift is a good perspective for asking good questions and getting more connected.
Focus on the top 20% of your clients and partners who provide 80% of the referrals.
Plan to spend 5-10% of the revenue these clients generate on the gift. Gift 1, 2, or 4 times per year.
Have fun doing radically nice things for your best clients and partners.
And if you'd like to watch the episode, here's the video:
---
The Wine (& Beer)

Reuben enjoys Para Maria Syrah/Petit Verdot blend from Santa Barbara county. (The second half of the bottle from the Wayne Mullins episode.)
Steve has a UFO American Style White Ale.
---
Where to find Steve

Where to find Reuben
@Sales4Nerds, @Mimiran, Mimiran.com.You can also listen on Overcast, or Subscribe on Android, or Player.fm.

Want a way to make sales and marketing fun, without being "salesy"? Try Mimiran, the CRM for elite solo consultants who love serving clients but who hate "selling". (It also tracks referrals and how much business you get from them and makes it easy to follow up and have conversations, just like Steve suggests.)
---
Get alerted when there are new episodes (1x/month):