How do you differentiate yourself when your competitors are also experts?
And would you want to take advice on differentiated service from someone who spent over a decade working for a cable company?
It sounds crazy, but in this case, you should.
Michael Katz did in fact spend over a decade at a cable company. But then, through a series of happy accidents, he became Chief Penguin at Blue Penguin Development, helping small services companies market better. He's also been quoted in the WSJ, the NYT, Business Week Online, Forbes, Inc, USA Today and more. Plus, he's won an award for humor.
Hear about those happy accidents (well, they seem happy now) and more, including:
How he quit his stable job during the internet boom and failed.
How he accidentally stumbled on a niche and how that turned into a great business.
Why he doesn't care about SEO or Google ranking.
Michael's 3 step process for being successful in services (some of this advice may start to sound familiar to regular listeners).
Michael's "Sports Illustrated" Rule for successful marketing newsletters.
How your marketing is like going to the gym (and Michael saves me a lot of time, right on the show)
How Seth Godin has been stealing his best ideas for years (remember the humor bit)
How being authentically yourself at work and beyond makes life so much easier.
Michael's also got a new book (it just happened to come out between the time we recorded the interview and the time it's published, which is why we didn't talk about it on the show) called The Likeable Expert, 121 Insights to Start Your Day and Grow Your Business.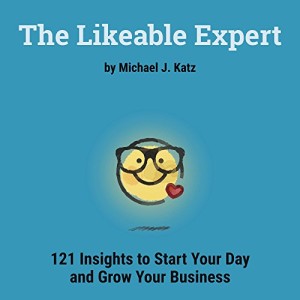 Bonus: Get the first 15 tips free here on this page Michael set up just for listeners.
The wine…
I enjoyed a(nother) glass of 2013 Franciscan Cabernet Sauvignon from Napa Valley. A nice, up the middle of the road cab. (It's pretty expensive on the Franciscan.com site, but you can get it for $15-18.)
Yes, this was from the episode with Aaron, saved thanks to the Vacu Vin Wine Saver (really handy for enjoying a bottle over the course of a few days).
.
.. and the beer…
Smoke & Dagger black lager from
Jack's Abbey
in Framingham, MA.
Where to find Michael:
Where you can find Reuben: @Sales4Nerds, @Mimiran, Mimiran.com.

You can also  listen on Overcast, or Subscribe on Android, Player.fm.
---
Get alerted when there are new episodes (1x/month):