I got introduced to David Newman through Ellen Melko Moore (check out her episode on using LinkedIn effectively) and have loved his newsletter and webinars, so I asked him to join me on Sales for Nerds because he has a wonderful way of explaining marketing concepts in "plain English" that's not only clear and compelling, but also entertaining, cutting through the haze of B.S. that fogs up most marketing advice.
But David took a long, strange path to get here, getting weeded out of pre-med, then earning a theater degree (one of my regrets is not returning to this in the interview), before getting into consulting and training.
In this episode learn:
How David learned to listen to people who were trying to give him money (and how that transformed his business and accounts for 98% of his revenue). This also gets back to the importance of having real-life conversations…
How and why he moved from corporate training to helping other consultants.
How we built a thriving business despite terrible timing (starting out on his own right before 9/11, publishing a book on speaking right before COVID) and struggling to find his niche at the beginning.
Why he (and you) needed help ("nobody does anything great alone").
How to stop treating sales and marketing with disdain, while avoid the "ickiness" that comes from treating service sales like product sales.
How to avoid "same-o lame-o" websites and create compelling proposals.
How to separate yourself from the bad consultants who have burned your prospects in the past ("clients rarely get a chance to commoditize consultants– consultants are too busy doing it themselves").
How to be an effective "professional irritant" ("if you don't risk turning some people off, you can't turn anyone on")
How to market well (and be referable): make sure your prospects and partners know exactly what you do, and can repeat it. ("If you're not repeatable, you're not referable.")
Why great copy isn't written, it's "listened"
---
And again– we've actually got video for this episode. See below…
---
Audio only…
The Wine
David enjoys some Spindrift Pink Lemonade seltzer, while Reuben enjoyed some Willful Pinot Noir from Willamette Valley, Oregon.
Books and More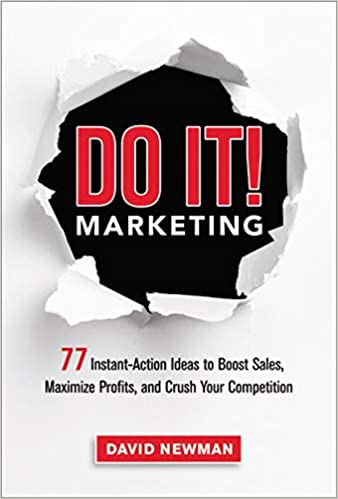 Do It! Marketing. Just go get David's book. (Just do it, you might say…)
---
Where to find David

Where you can find Reuben: @Sales4Nerds, @Mimiran, Mimiran.com, the easy CRM for people who are awesome at serving clients and would love some help getting more, but hate "selling". You can also listen on Overcast, or Subscribe on Android, or Player.fm.
Note, speaking of "plain English" proposals, you can also get your "Fill in the Blank" Consulting Proposal Template.
Want a way to make sales and marketing fun, without being "salesy"? Try Mimiran, the CRM for elite solo consultants who love serving clients but who hate "selling". (Including the more powerful than ever Free Edition.) Mimiran can help you implement a lot of Michelle's ideas not only more efficiently, but more effectively, including tracking referrals, maintaining relationships through conversations, and more.
---
Get alerted when there are new episodes (1x/month):